Archive for
February, 2012
Our perception of color is based upon numerous factors. Color is first perceived by us as light, varying in wavelengths and brightness, enter our human eyes through the cornea. light wave consists of different wavelength and brightness which enables different colors around us. The light, refracted from an external object, then moves on to the pupil. The muscles of the iris contract and expand to admit less or more light through the pupil, depending on the amount of light available. The light then moves toward the back of the back of the eye to the retina which is composed of the rods and cones. From this area all information is processed in the brain, more specifically, the visual cortex, the part of the brain where visual information is processed.
Color is perceived in an endless amount of ways other than the technical way just described. In design,"color harmony" is achieved when there is something inwardly pleasing in a visual experience. When something is not harmonic it takes on the risk of being classified boring or chaotic. Colors organized in the right – or wrong  – way can either draw us in or drive us away from a composition. Our human minds reject under stimulating information and does the same to information it cannot organize. This can explain why some pieces that don't necessarily have something wrong with them can only bring out the words "it's just not pretty" or " i just don't like it" to describe them.
Sources: http://www.colormatters.com/ and http://www.handprint.com/HP/WCL/wcolor.html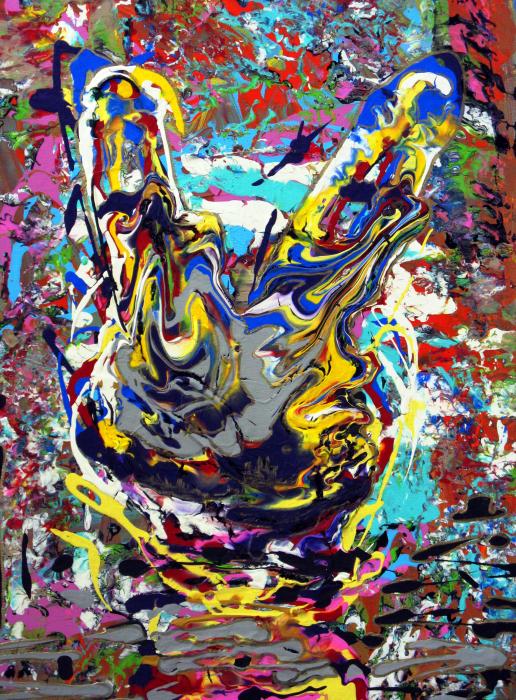 In our first color theory assignment we were given the challenge to use all the skills we gained in the previous color mixing studies
the color wheel, gray scale, tints and shades scale, and saturation scales. We were instructed to make a series of 8 4″ x 6″ designs exploring the characteristics of color: Hue, Value & Saturation. They could be simplified representational images or non-objective and abstract but they had to be thematically or stylistically linked in some way. Each design must have a minimum of 6 areas of color. Each design had to be painted in acrylagouche on Bristol board and mounted together on black illustration board at the end. the following are the criteria for the 8 paintings:
A. Make a small painting using at least six areas of different color. All colors in this study should be CHROMATIC GRAYS. Make the value range broad. Also try to include chromatic grays from a range of hues. No color should be used more than once.
(gray scale, tints and shades,
and saturation scales)
B. Make a second study, also using only chromatic grays. This time, make a narrow value range with all the values congregating around the dark, middle or light part of the value continuum (maintain a broad hue range.) When the values of a design are predominantly dark, the image is said to be LOW KEY. A HIGH KEY image would have values largely at the light end of the value scale.
C. Make a third study, this time using only DESATURATED colors with a broad range of hues and values. These colors should be higher in chroma (more saturated) than your chromatic grays, but still muted.
D. Make another painting in DESATURATED hues with a broad hue range and a narrow value range.
E. Make a painted study using only FULLY SATURATED colors. Make the value range broad.
F. Make another FULLY SATURATED study, this time using a narrow value range.
G. Make another small study  including a broad range of hue, value and saturation.
H. In your final study, use a narrow value range with a broad range in saturation level.
(From left to right, top then bottom) Panel 1: C, Panel 2: F, Panel 3: G, Panel 4: B, Panel 5: A, Panel 6: H, Panel 7: E, Panel 8: D.