Yinka Shonibare Exhibition
In addition to the work that is required for this course in thesis preparation I would like to keep some thoughts that will peripherally help me as I decide upon my topic. These entries will be snapshots of my life, influences that I come across or just plain "ideas" that come to be on my thesis journey. I will call these "Thoughts" and I will start each entry off with that label so that they will be understood in relation to my actual course work assignment
blog entries.
Tuesday was an interesting day for me. I decided to seek out some evidence of the way culture informs creation. That is, in part, the basis of my initial thesis thoughts. At the Modern Art Museum of Fort Worth there is currently an exhibition of work by Yinka Shonibare. His exhibition was rich with pieces on cultural identity and the influence of colonialism. I found messages and cues to thoughts that seem to be masked in our larger society. Ironically these are the thoughts that seem to reveal the truth about the world around us.
Individuals can write down or shout on street corners about their theories and thoughts on society and cultural identity, but it is quite ground shaking when a visual manages to powerfully get a message across.
Individuals were not identifies as being a significant part of a trade system. People were seen as property and mere chattel. One piece that was intriguing to me was the one C-print called La Méduse, where a slave ship is given sails of African batik fabric patterns. Instead of having a blanket feeling of general acceptance in viewing a classic slave ship, we are reminded of the souls that were stolen and forcefully carried in the belly of the ship. You are aware of the people who were so vilely violated on many levels. Just the visual of their home fabrics makes that connection firm.
Another piece that was just so wrenching was the film, Odile and Odette, which beautifully illustrated the paradox of good and evil in relation to racial identity. By using a black and a white ballerina to perform this dance you are also reminded of the discrimination that is prevalent in the realm of ballet. Once again visual cues linked to culture and social identity are sending an extremely powerful message to the viewer.
Yinka Shonibare, La Médusa, C-print.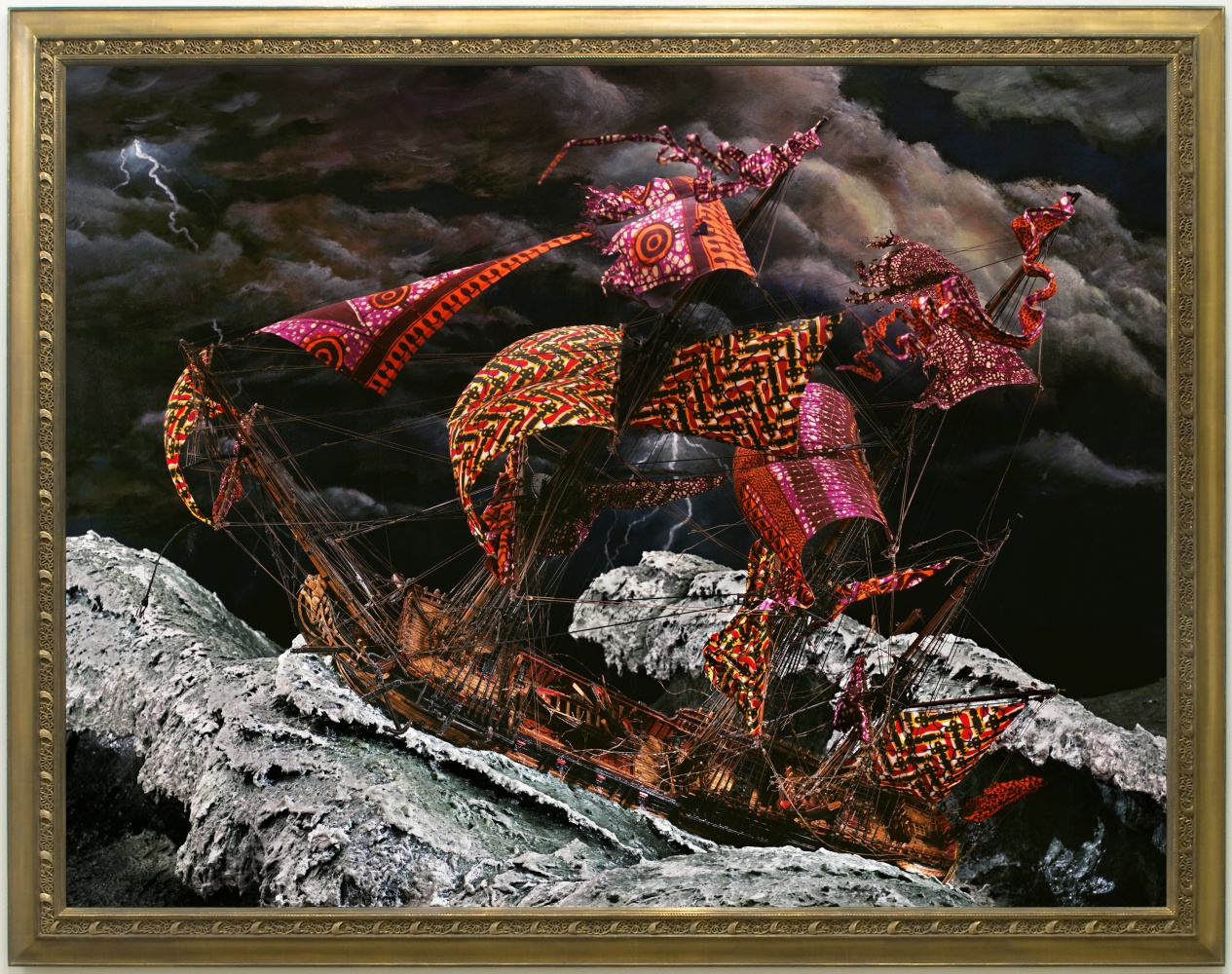 Yinka Shonibare, Odile and Odette, Film. 2005.