Posted by pquinn in : Updates , comments closed
Please enjoy the work of Yves Jeffcoat (BFA WRIT) winner of this year's WRIT challenge. This work will also be included in the Ivy Hall Review.
Congrats Yves!
Vessel
From an ancient Aztec song: "We merely come to stand sleeping.  We merely come to dream."
She decided to visit me today, although I haven't seen her in a long time.  Her arrival was unpredictable yet inevitable.  The last time I saw her it was a sticky-sweet June day; the sun was high and the air was so thick that the strands of my hair stuck together in clumps.  It was a day that looked good from the inside.
The boy told me I spoke of a fuzzy reality, a shaky existence.
I was about twelve at the time, a little girl who didn't understand anything but what my mother told me.  "You've got a lot of spirit," is all she would say in a coarse whisper.  She'd grown older from taking care of me more than she'd grown older because of time passed.
He said it seemed as if it were some sort of out-of-body experience.
"Listen, you're not crazy."  Mom sat me down and spoke to me in soothing tones, her hands shaking as she ran her thumb and forefinger along the curve of my ear and ended with a cupped hand on my chin.  "You are Emma, but you're more than just the Emma you know."
If I'm not always myself, then who am I?
A week ago, my mom died in her sleep.  She was only 59 years old.  The day before she died, my stepdad left us.  He claimed that "the Devil is a sure thing and he's at work here."  He'd never been around much so there wasn't a substantial difference between his presence and his absence, and his words disintegrated.
I've done things that I don't remember. I've written things of which I have no recollection.
I saw my mother's flesh at the funeral. Her dark brown casket was adorned with flowers and bows.  The folding chairs creaked as family members and friends swayed side to side in their seats, restless and uneasy from the prospect of death.  Tears, discomfort, sadness, holding, hugging, pacing, anguish, broken hearts, grief, mourning, worrying; a heaviness pervaded the space that rested on my shoulders.  There were stares from every corner of the room directed toward the open casket.  Some were appalled, some were afraid, some were depressed.  A sea of black – is this what death feels like? I walked up to the casket and peered into the lined box.  Her face was made up with the lipstick she always wore and she had on her favorite blue dress, the one she wore when I took her out for dancing lessons a couple years ago. Her hands lay gracefully across her chest.  I turned away from my mother and sat back down next to my puffy-eyed aunt.  She turned to me, flashed a despondent smile, wiped the dripping mascara from her cheeks, and continued to distract herself by pretending to read my mother's biography on the pamphlet.
I didn't welcome her visit today more than I did any other time she came.  It was the first time she had come in ten years.  Why does she do these things? Why does she act irrationally?   Why is she not in control of her actions? Why does she forget what she does? Why does she exist?
There's more to me than I know.
I tried to commit suicide after the funeral, partly because of my mother's death and partly because of the reappearance of my alternate persona.  I did it in the hopes that once dead, my two personalities would finally unite and I could finally know my real self.  But I woke up on my aunt's couch, where she was kneeling next to me with shaking shoulders and bloodshot eyes.  "Don't ever do that again," she plead in between sobs.  I closed my eyes again, hoping that I'd fall asleep and wake up alive.
We do not live when we are here.  We live after we leave.
Posted by David Spencer in : Animation, Film and Television, Interactive Design and Game Development, Updates , comments closed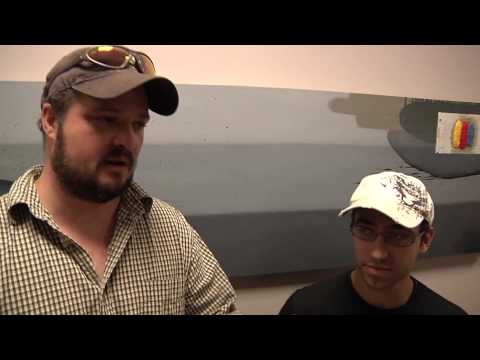 The creature challenge judges check in on the progress. Thanks again to Xaviant, Hi-Rez Studios, and WETA Workshop! And great work from the TELE crew, who continue to produce these awesome documentary clips!
Posted by David Spencer in : Animation, Film and Television, Motion Media, Updates, Visual Effects , comments closed
Go TELE students! Every year the TELE department makes documenting the event (the challenge of covering all the other challenges) look easy.
Posted by pquinn in : Updates , comments closed
10:00a.m. Saturday and we're done! Congrats to all the students on their hard work, determination and achievements!!! Be proud of yourselves and get some sleep!!!
Posted by pquinn in : Updates , comments closed
Posted by pquinn in : Updates , comments closed
Thanks to all of our amazing sponsors and donors!
SILVER LEVEL SPONSORSHIP

SILVER – PeachMac www.peachmac.com @peachmac
Georgia Game Developers Association (and SEIGE) http://www.ggda.org/ @GGDA_ORG
SILVER – Papa Johns – @papajohnsatl
So many of you have supported this event over the last 7 years and we can't thank you enough! Hope to see you all back next year!!!